From my perspective this one was possibly the most interesting of the Tech Field Day 17 presentations. Oracle's cloud service has had a bit of a cloud (see what I did there?) hanging over it for some time with some of the issues regarding the sales approach and some of the creative billing and sales accounting plus the perception that it is not much more than a managed service offering around Oracle hardware and software stacks.
This presentation was a wake-up call for me, exposing their current offering that is actually very well suited to many enterprise workloads as well as cloud native ones, especially those where consistent performance is a requirement. First thing out of the block that surprised me was the fact that the Oracle Cloud offering is strictly x86 based — Sparc is simply not part of their Cloud services. There are managed service offerings if you still need this, but the cloud offering really is a separate beast from the rest of the Oracle corporate structure. In the same vein, their storage stack is all completely new development, purpose built for the cloud offering including block, file and object. But it's not based on the ZFS-based storage servers or even Exadata, it's all specific to the cloud environment. On one hand, as a ZFS aficionado this makes me a little sad, but from a practical perspective this actually makes a lot of sense. ZFS is a solid filesystem, and definitely has its place in many infrastructures, but cloud level scaling is really not its strong point.
So back to the performance question — Oracle cloud is the only cloud vendor that I have run across to date that offers complete performance SLAs (please ping me here if I'm missing someone). On the networking side they guarantee latency between systems in their cloud at 100µs, and there's a clear SLA concerning IO/Gb of storage requested of 50 IOPS/Gb with a maximum of 20K/volume. These aren't particularly ambitious SLAs when dealing with 25GbE (on a properly designed modern spine and leaf architecture) and NVMe storage, but at the very least it sets the bar so you know what you're getting into.
Oracle is taking advantage of being a little late to the game, by being able to jump directly to some of the newest components in storage technology (can you say NVMe?) and aggressively pushing new chip technology from AMD. Without a huge legacy installation to worry about upgrading and updating the cost model, they are able to offer very competitive rates on newer, higher density systems. One thing that stood out was when I asked about the cost differential between a bare metal server and an equivalent number of VMs, it turns out that there isn't one. The per core cost is the same, whether it's delivered as a physical server or a virtual machine. Oh, and the OCPU description is for a hyper-threaded core with two logical instruction units.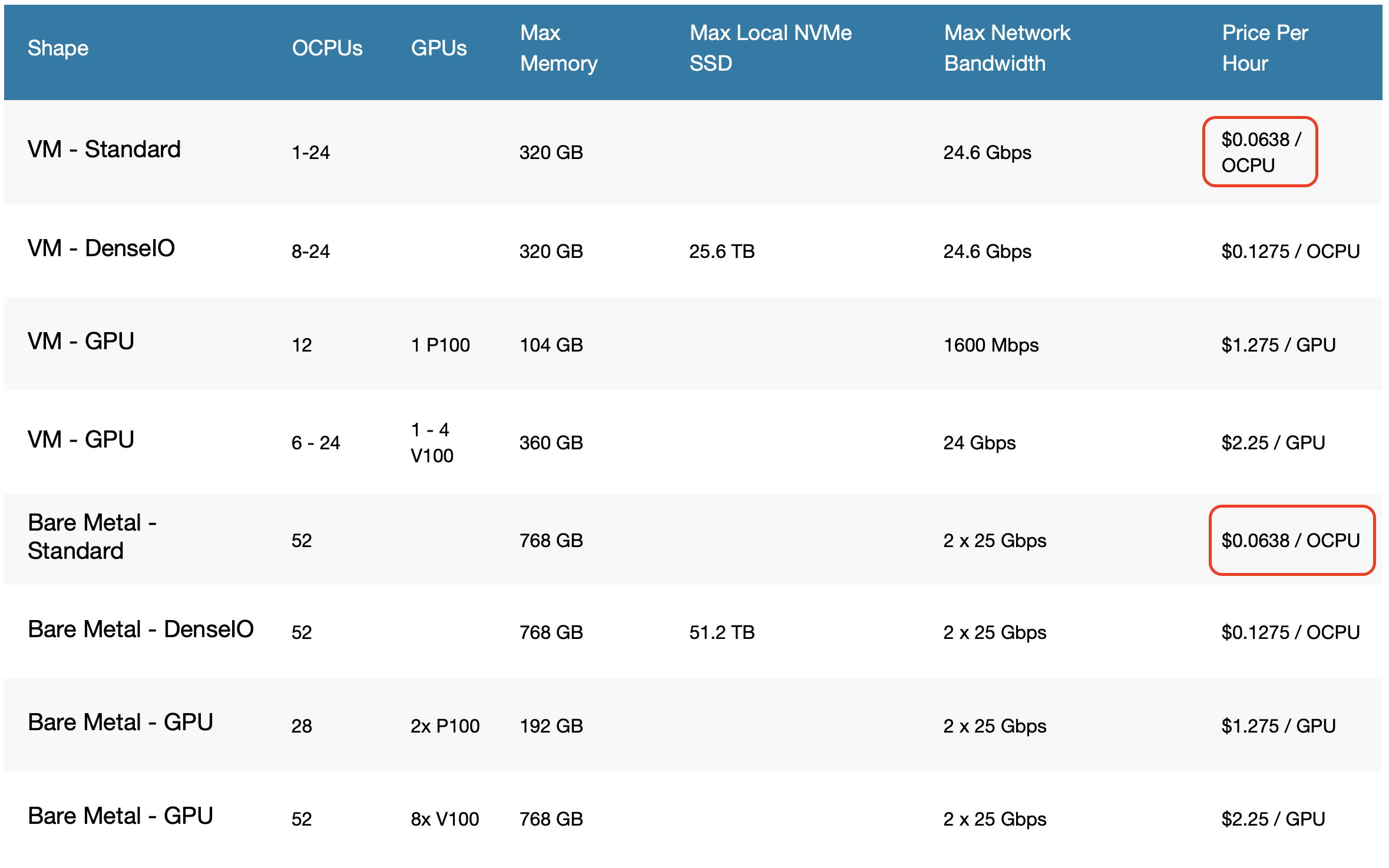 This enables some interesting possibilities in that if you really want to have complete control over your virtualization stack, and make migrations transparent, nothing is stopping you from running your own hypervisor on bare metal instances with the "Bring Your Own Image" option.
Currently VMware isn't on that list, although Hyper-V is, along with KVM and there's no restriction if you are still holding on to older Windows VMs with legacy applications on "obsolete" versions that you can't migrate to Azure. I suspect that with a bit of elbow grease, you could build your own VMware hybrid cloud in the Oracle cloud environment. I'm going to have to go do the math on the pricing possibilities, but with the recently announced single-socket AMD Epyc based servers, this might actually be a viable alternative to the VMware on AWS offering. Things that make you go hmmmm. Of course, it's not a true apples-to-apples comparison since the VMware on AWS is a fully managed offering, including upgrade management, vSAN, NSX, etc., but if your VMware environment is well automated, this might just work.
Oracle Cloud is also getting very agressive on some of the other pricing aspects, notably network egress, with the first 10Tb included. Compared to Amazon's rather stingy 1Gb included offering, this could make a big difference to companies that are moving lots of data around or have media-heavy internet facing applications. It also takes away part of the data gravity problem that companies have with using cloud based services.

Vs.

And when you go over the 10Tb baseline, it's still pretty affordable. A quick back of the envelope check on a 50Tb outbound gives me :
Oracle Cloud : $340

Amazon EC2 : $4149.91
My big takeaway from this presentation is that Oracle Cloud is not your DBA's Oracle and is really worth adding to your list of clouds to evaluate.